Delightful Dog De-Skunking
About Our De-Skunking Bath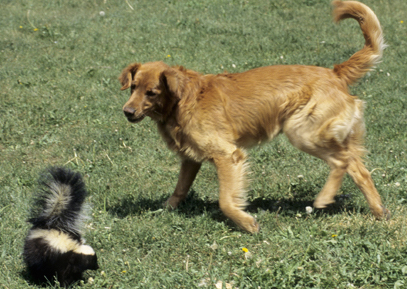 Skunks are everywhere! If your dog gets curious and gets got, quickly wrap him in a towel, wipe off his eyes, and bring him to Soggy Doggies Grooming.
The skunk's smell is produced by the skunk's anal scent glands and used as a defense against predators. The pretty little guy's foul-smelling fluid contains sulfurous chemicals known as thiols. Skunks can spray their liquid deterrent up to 15 feet, and many curious canines get a blast of it right in the face.
Don't fret. We've got you. Give us a call and let us know you're coming!