Dog Nail Painting at Soggy Doggies Grooming in Colorado Springs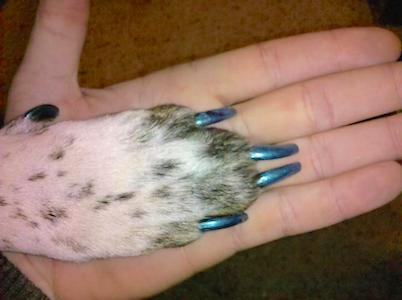 Have you seen the celebrities on TV with their precious pooches peeking from their bags, diamond-studded collars and painted nails? Now you can give your dog the same treatment with our dog nail painting service.
Soggy Doggie Grooming offers dog nail painting as part of our services, to sparkle up your pet for the holidays, or just for fun.
Although pet nail painting may seem a little silly, it's quite popular. We use special paints specifically for pets, including dogs and cats, that don't have the chemicals human nail polish has.
So when your pet comes in for grooming, why not pick a nail color? We'll twinkle up your pet's nails for only $15.00.
Gotta love it!